A Patented Bioremediation Product to eliminate hydrocarbon contamination

Oil Gator® – Premium Oil Absorbent and Bioremediation Product
Oil Gator is produced from recycled, chemically modified cellulosic fibers. It contains all the necessary ingredients (nitrogen, sulphur (sulfur) and phosphorus) to enhance the biodegradation of hydrocarbons by indigenous bacteria.
USA Patented Oil Gator will degrade unwanted hydrocarbons into harmless carbon dioxide (CO2) and water (H2O) insitu. (please see USA patent 5,609,667)
Oil Gator's powerful wicking action actually extracts hydrocarbons from less absorptive material. Oil Gator encapsulates the hydrocarbon making it available to the indigenous bacteria as a food source. Oil Gator is not WHMIS regulated and will not harm humans, plants, animals or aquatic life. It is non-abrasive and will not harm machinery.
Oil Gator absorbs and encapsulates hydrocarbons from the surface of land and water. When applied as per protocol Oil Gator completely encapsulates the hydrocarbon preventing it from leaching into underground aquifers or off-site.
Oil Gator can be incinerated and will contribute 7,000 BTUs per pound with less than 3% ash. Nitrogen and other nutrients are required by the bacteria during the process of degrading any hydrocarbon. Our proprietary manufacturing process enhances the nutrient composition and makes the Oil Gator material less susceptible to fire.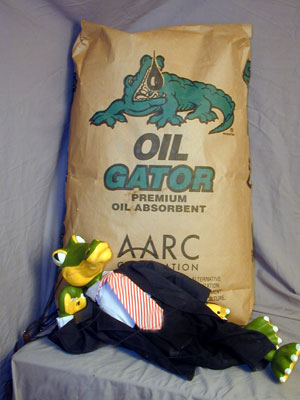 Certified by the USDA BioPreferred Program as 100% BioBased

Harmless to Plants, Animals and Aquatic life. (Passes 96hLC50 Toxicology Test)

Comes in a 30 pound bag (13.5 kilogram bag) for ease of handling and storage.

Shipped 60 bags per pallet.

Lightweight, which will lower the cost of transportation.

Encapsulates oil and oil-based products.

Ground cleaning by bioremediation.

Stops leaching of contaminants into the soil or groundwater.

Noncarcinogenic and non-abrasive.

All-natural cellulosic fibers.

On-site bioremediation saves transportation and disposal costs.